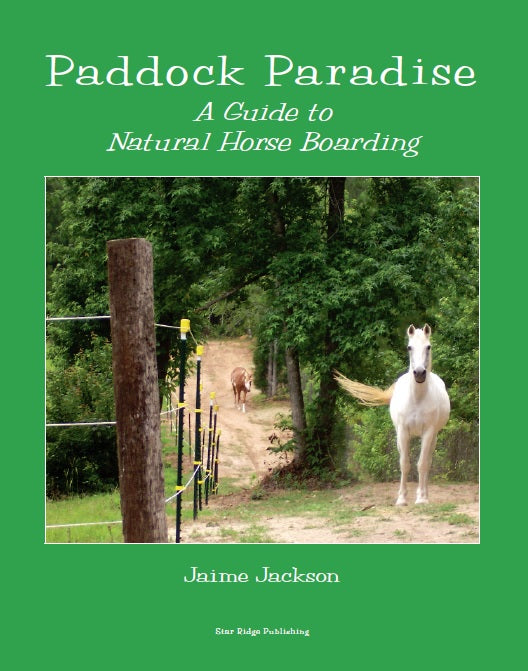 Paddock Paradise: A Guide to Natural Horse Boarding
$29.95
Perfect bound, color, 2018 edition. 144 pp.
May also be ordered at Amazon.com:  Paddock Paradise: A Guide to Natural Horse Boarding (2018 edition)
Paddock Paradise is a revolutionary model and guide for safe, natural horsekeeping, hoof care, and the healing and rehabilitation of lame horses. The premise of "Paddock Paradise" is to stimulate horses to behave and move naturally according to their instincts. This unique and unprecedented model is adaptable to virtually all size horse properties, regardless of climate, and fits all equine breeds regardless of how they are used. Consider some of the following benefits for creating a Paddock Paradise for your horses:
Encourages more natural movement within a tracking system.

More natural movement means more naturally shaped, healthy hooves.

Protects horses from dangerous laminitis prone pastures.

Minimizes the need for warm-up exercise time before riding.

Facilitates natural socialization between horses.

Provides an effective means for diet and weight management.

Many other benefits.

Copies are signed by the author.
This 2018 edition includes a photo "tour" with commentary of the AANHCP Paddock Paradise.

Paddock Paradise has now been translated and published in other languages besides English. Inquire here: www.PaddockParadise.net
Book dealers can order from Ingram Book Company

.